Meet Verona. Hope you have your QR Code readers handy!
So, a bit of background for those who don't know what this is about.
I first drew Moa five years ago as some sort of doodle in a comic creator hangout. Then I thought more about her, gave her a friend, and started drawing the two of them semi-regularly, hoping I could make a short comic with them someday that's been nicknamed Frivol-X by our regulars on the Discord server.
This someday is now. :)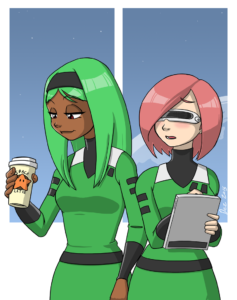 Please vote for me on Top Web Comics!
Buy my a coffee on Ko-Fi!
And don't forget to comment, follow me on Twitter or like the Facebook page!